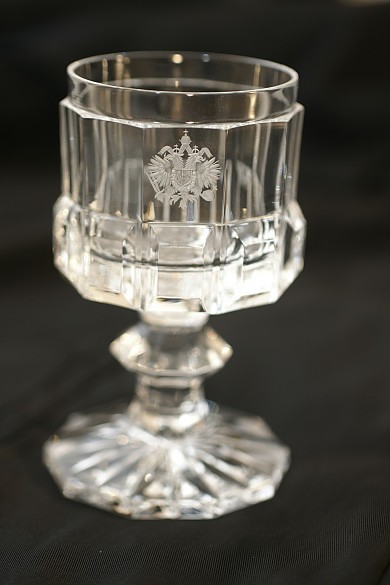 Lobmeyr & Co.: Flute-cut wine glass with imperial double-headed eagle, c. 1900
Josef Lobmeyr moved from Upper Austria to Vienna, where he took out a loan to open a small shop, thereafter working his way up to establishing the glass company that became the foremost supplier of glass goods in the imperial capital and continues to flourish to this day. An opportunity of showcasing Viennese products was offered by the first Vienna 'Central Trade Products Exhibition' of 1835 which took place at the Hofburg in premises provided by Emperor Ferdinand I. However, the exhibition only featured products from the Crown Lands without international competition.
Copyright
Schloß Schönbrunn Kultur- und Betriebsges.m.b.H.