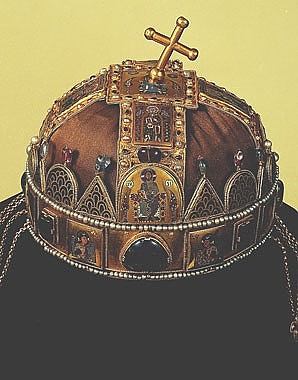 The Crown of St Stephen 1526–1918
The royal Hungarian crown commemorates the first Christian king of Hungary, St Stephen (Hungarian: Szent István), who was crowned in 1000 with a crown sent by Pope Sylvester II. This crown has not been preserved.
The insigne known as the Crown of St Stephen consists of various parts dating from the eleventh to the thirteenth centuries and is venerated in Hungary as the 'Sacred Crown' (Hungarian: Szent Korona) on account of its deep religious symbolism. Since 2000 it has been displayed in the domed Hexagonal Hall of the Parliament building in Budapest.