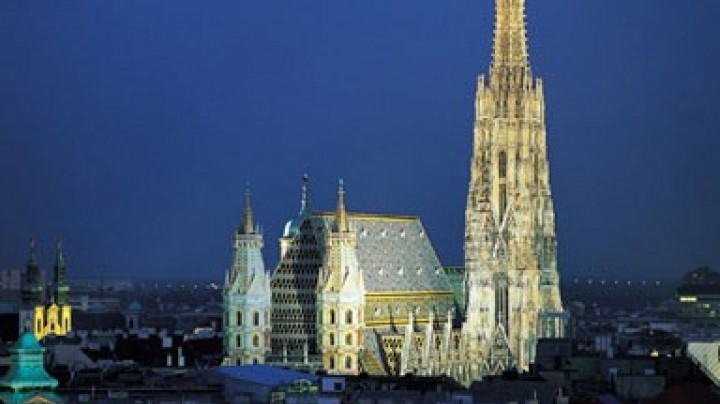 St Stephen's Cathedral
St Stephen's Cathedral in Vienna has for centuries been the heart of the capital city and one of its landmark emblems.
The latest research has shown that the cathedral is much older than previously supposed. The first documentary evidence is dated 1137 and the Romanesque church was consecrated in 1147. However, there were at least three predecessors to this building. A side building was added between 1230 and 1250, of which the west façade with the two Heidentürme – the Roman Towers – the Riesentor – the Giant's Door – and the main portal are still preserved. The door has been refashioned many times and has great theological significance. In the centre of the tympanum we see Christ enthroned in glory as ruler and saviour of the world.
Under Duke Albrecht the Wise the hall chancel – the part named after him – was built in 1340. Duke Rudolph IV, "the Founder", laid the foundation stone for the south spire, meanwhile work began on the Late Gothic extension of the cathedral. In 1433 the south tower was completed at a height of 137 metres and the Gothic roof truss erected between 1440 and 1475.
In the 1470s Emperor Friedrich III laid the foundation stone for the unfinished north spire, 62 metres high. Building was aborted in 1511. The Renaissance tower roof of 1578 has room for the "Pummerin", the bell of St Stephen's weighing almost 22 tonnes.
In the last days of the Second World War the cathedral suffered heavy damage by fire. With the aid of all the Federal Lands its solemn  re-opening was made possible by the year 1952. The cathedral's outer appearance is dominated above all by the south spire – affectionately named "Steffl" by the Viennese – and the roof decked with polychrome bricks. No matter from which angle the cathedral is approached, its appearance as a whole remains evasive; the observer is constantly confronted with new perspectives.
The cathedral interior is visually dominated by the Baroque altars, but several remarkable Gothic and Renaissance works of art have been preserved, including the cathedral pulpit, the baldachin altars , the Tomb of Friedrich and the Gothic windows in the central chancel.
Observing St Stephen's merely from the art-historical point of view does no justice to it, of course. It is and will always be what it was built for: a house of God.

Opening hours:
Daily from 6 am to 10 pm
Sundays and public holidays 7 am to 10 pm