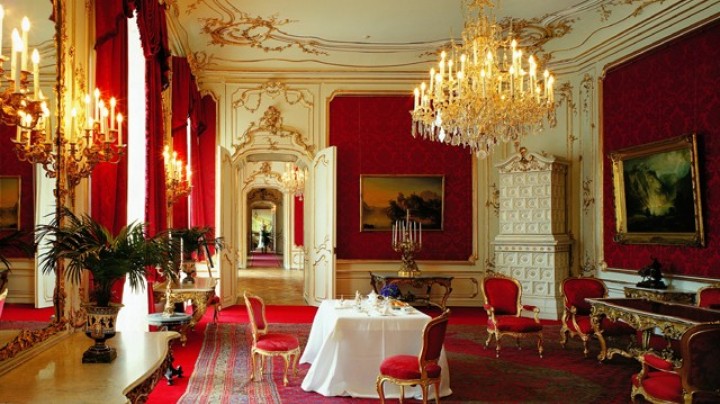 Hofburg - Imperial Apartments & Sisi Museum & Silver Collection
The Vienna Hofburg: on Sisi's trail, Imperial home living and husbandry
The Vienna Hofburg was the centre of the Habsburg Empire for several centuries. Three museum attractions provide an historically authentic view into Court tradition and everyday life: the Imperial Apartments, designed true to the originals, the intimate and emotional  presentation in the Sisi Museum and the Imperial Silver Cabinet – all together a wide-ranging collection of Imperial utility objects and commodities.
The Schloss Schönbrunn Kultur- und Betriebsges.m.b.H. has been running the Imperial Apartments in the Hofburg since 1994. Of the former official and residential rooms, today 19 rooms can be viewed where Emperor Franz Joseph and his consort Elisabeth lived. Supported by intensive scholarly research, the Schloss Schönbrunn GmbH has succeeded in giving the rooms their original character once more. The furnishing of the private quarters reflects Emperor Franz Joseph's modesty; it is austere, yet conveys a certain Imperial illustriousness without being extravagant.
Highlights of the tour include the study where Franz Joseph surrounded himself with many pictures and souvenirs of his family, the toilette and gymnastic room of the beauty-conscious Sisi, or the banqueting hall with a table decked out with original tableware and adornments.
The Sisi Museum has been housed since 2004 in the Stephan Apartment, named after Archduke Stephan Viktor. A multitude of Elisabeth's personal items convey the true personality of the much maligned empress. Prof. Rolf Langenfass, the renowned stage designer, has prepared a sensitive scenario oriented on the empress's personal poems and illustrating how the carefree girl Sisi became a restless, unapproachable and depressive woman.
Among the 300 exhibits and more in the museum we find sunshades, fans and gloves of the reclusive Elisabeth, beauty recipes, her death mask, the assassin's file – otherwise kept under lock and key – a reconstruction of Sisi's wedding-eve party and a partial reconstruction of her luxurious Court Salon Carriage.
The Imperial Silver Collection on the ground floor holds the largest exhibition collection in the world related to the culture of a courtly household. The artefacts come from the inventory of the former Hofsilber- und Tafelkammer – the Court Silver and Table Chamber – exquisite single pieces used by members of the Imperial Household and also entire ensembles, an impressive ilustration of the Imperial Household's wealth. The show extends over an area of 1,310 m2; 7,000 items include cooking pans from the court kitchen, baking tins from the Court Confectionery, table linen, glass services, table silver, porcelain and centrepieces of gilt bronze – an amazing variety of preserved utility objects and artefacts.
Special highlights include the personal "Mundzeug" – the eating implement set – of Empress Maria Theresa, the golden table service of Napoleon I, the Minton dessert service (a gift of Queen Victoria to Emperor Franz Joseph), Empress Elisabeth's  portable travelling service and the Imperial sanitary ware, bourdalous and chamber pots.
Opening hours
The Hofburg – Imperial Apartments/ Sisi Museum / Silver Collection are open daily – also on public holidays!
September to June 9 am - 5.30 pm
July and August 9 am - 6 pm
Hofburg - Imperial Apartments & Sisi Museum & Silver Collection