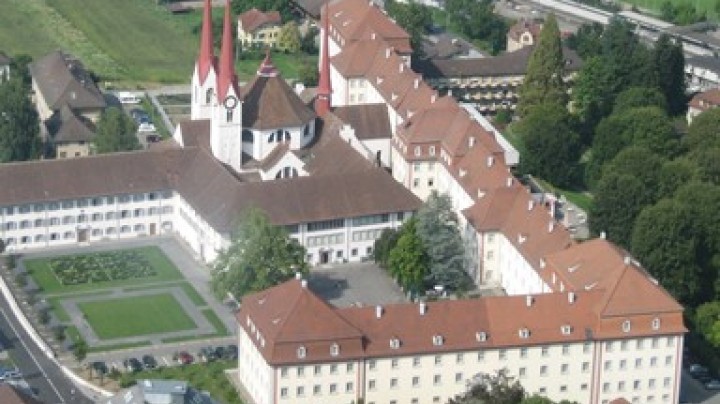 Abbey Church Muri
The first House of Habsburg monastery is situated in the Frei Amt of Aargau not far from Lucern, Zug and Zurich. This is where the mighty Benedictine monastery of Muri was built in 1027 – parallel to the erection of the Habsburg near Brugg. Monks lived here according to the Rule of St Benedict until 1841. After the dissolution of the monastery, the turmoil of history led them via Inner Switzerland to South Tyrol, where, in the nineteenth century, the Habsburgs gave them a new home in Muri-Gries
The monastery's heritage is preserved and fostered in Muri. In 1998 the present owners of the building complex created the umbrella organisation of "Muri Vision" in order to implement common joint agendas. Muri Vision embraces the Canton of Aargau, the community of Muri, the Catholic Church community, the institution "pflegimuri" and the abbot and convent of Muri-Gries.
The activities include building projects, publications, music projects, monastery tours – also electronic – through the buildings and the monastery church with its Octagon. Furthermore, there are religious and cultural projects, for instance theatre productions (the thirteenth-century "Osterspiel von Muri" – The Muri Easter Play), CD productions and care of the museums: the monastery museum and the exhibition of paintings by the eighteenth-century Alpine artist C. Wolf.
The connection to the House of Habsburg is omnipresent in the buildings: the hearts of the last imperial couple Karl and Zita (28th generation), the oldest family tomb in the Octagon. Renaissance painted glass of the Habsburgs in the cloisters and Emperor Karl I's gift clock to his helpers during the second attempt at restoration in 1921 – all these are living testimonies  to the Habsburg tradition in Muri. Many family members still visit "their" monastery in Switzerland today.