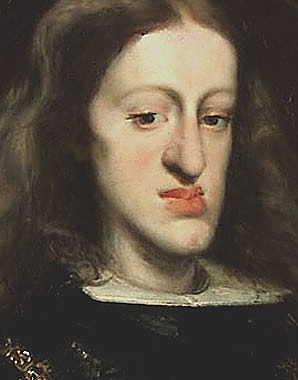 Charles II
from 1665 king of Spain (at first until 1675 under the tutelary regency of his mother Maria Anna)

Born in Madrid on 6 November 1661
Died in Madrid on 1 November 1700

He succeeded his father Philip IV at the age of four. The genetic outcome of the constant consanguineous marriages between the two lines of the House of Habsburg, he is seen as the symbol of Spain's decadence in the seventeenth century. Charles (called 'the Bewitched') was neither physically nor mentally capable of ruling, and was dominated by his mother Archduchess Mariana for almost the whole of his life. Speculations about the distribution of the Spanish patrimony were already rife while he was still alive. He died childless, triggering the Spanish War of Succession.